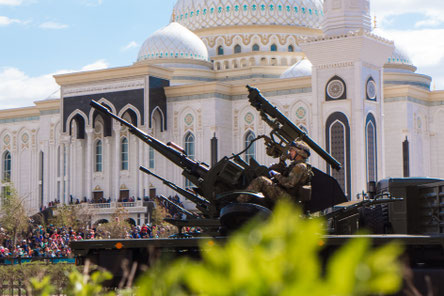 Again we have used a visa completely. Again we have gotten a lot of experiences and again we have a couple of more stories to tell. After entering Kazhachstan between Bishkek and Almaty we have taken the direct way towards Astana. That was quite boring as it was pretty much steppes and small towns. After a few days we arrived in Astana.
As we have some problems with our fresh water pump we went straight to a hostel in Astana as they had allowed my mum to send a package to them. So we parked our truck there and headed out to see the city. It is a city that has been planned and built after the collapse of the Soviet Union. 25 years ago this was just another small town. Nowadays there is not much left of that. As they are preparing for the EXPO 2017, it seems like everything is being renovated, polished, cleaned and fixed. The construction works for the Expo sight are close to completion when we visited them. The city centre is full of modern residential parks with western supermarkets, magnificent mosques and impressive bulidings. Everything was planned by a japanese star architect. Unfortunately this guy has obviously nerver taken a walk through the city though. Quite often the sidewalks just end all of a sudden in nowhere or at large unpassable roads. The bus plans are totally useless as they show routes without a map. The rental bikes require a yearly fee and some special id card. The tourist maps were out two weeks before the expo. After all the city is still Kazhakh. The finely polished granite and marble is quite often falling off the facade before completion of the buildings.
In the meantime our package had still not arrived. So strolling through the city we spotted just about 20 tanks quite close to our hostel. Slightly irritated we went to see what was going on. Turns out that they were just practicing for the 9th of May parade. A military parade that was quite impressive. Just about one week there were about 5.000 Soldiers marching up and down the road, followed by tanks, helicopters, drones and quite a few jets.
The postal service seemed to be practising for the holidays as well. As the package was still not there. So we decided to use the time and learn about country and culture. As there were quite a few museums in the city this was quite easy. There was quite some information especially on the last 25 years. A lot has changed. The first president of the country is still in charge and seems to be on every second picture you can find. Even though international press releases are not always good the people seem to like him. A lot has changed for the good. So you can't really hear a lot of critic in the country.
After just about two weeks in Astana our package had still not arrived and we have had enough of big city life. Remembering the Alty Emel National Park and the Charyn Canyon we headed north to the Burabay National Park. Already at the city limits we were stopped by the police for our daily check. Today we were accused of stopping at the wrong position. As we pointed out that this was nonsense they checked our cabin. When they found an empty beer bottle from the day before we were accused of drinking and driving. As I got quite unamused they let go and we were allowed to head on. Unfortunately we were able to get quite experienced in these kind of police checks while we were in the country. One time it was walking a meters besides the peds crossing, one day it was the luggage on the roof, one day it was an invented road sign and the other days they just wanted a few (hundred) dollars for nothing. Anyways, this will surely remain in our memories.
Back to the Burabay National Park. It is actually quite a beautiful spot in Kazakhstan. Some lakes, some woods, some mountains, just a little bit of green in the middle of the steppes. Unfortunately they are just now building big hotel complexes on the last nice spots on the lakes and the nice trails through the woods are being paved. To complete the picture they are already requiring guides for foreigners hiking in the park.
After two days we headed off to Russia and ended up in the beautiful little city of Petropawl. It seemed like we had exited Kazakhstan already and we had an awesome time out there. In line with Almaty, Charyn Canyon and the Altyn Emel National park it is one of our favorite spots in the country...