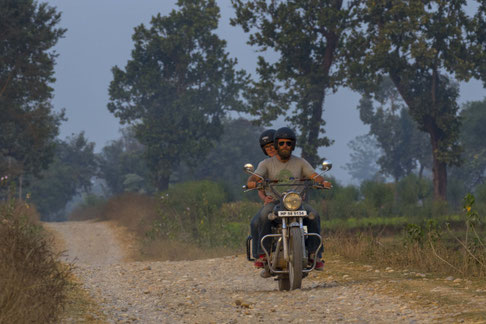 Actually I never wanted to go to India. Actually I really hate large crowds of people. India is actually not even on our route and actually things never turn out the way you expect them to. As we have spent a lot of time on the Balkans and got lost in Iran we had to figure out a plan for the winter. Spending wintertime in Mongolia and Siberia just didn't seem to be the right option for us. So Ann-Katrin offered to buy an Enfield for me if we could go to India. As we were going to Nepal to do the Annapurna anyway ,this was actually a quite good option for us. To be honest: the conversation was done when the word Enfield was spoken.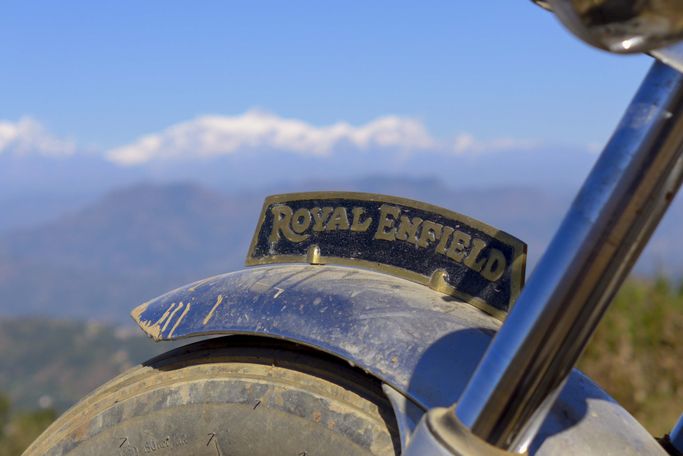 Enfield – 2 wheeled tractor par excellence. A legendary cylinder with just 350ccm. A design of the 60's that is still India's most powerful and thrilling bike. Buy a bike in India? No big deal at all! We are enjoying beer in Kathmandu as we met wo Bavarian guys that were travelling with two Hondas. One of their buddy s was trying to sell their Enfield just that time. One day later we were the proud owners of a bike called Sarah. Paperwork? – nothing needs to be done with them when buying a bike. A 350 Bullet Electra with Indian plates in decent shape. Some might even like the looks of the bike but that wasn't it. I was thrilled to get to know the bike technically. I wanted to know if all of smashing reputation was for real. I wanted to know if all of those stories about broken clutches, snapping cables and the worst quality parts were true. I've had quite some bikes with me throughout the years and I was just so curious what this one was going to ask for.
At the end we rode her just about 5000km in just under 3 moths. She was packed up to the limit with two people and all the luggage. We rode her on the worst roads of Nepal, through rivers and Indian cities and she was a good bike! Yes we had some defects and somehow breakdowns. Whoever has ridden the sidetracks of Nepal and cities of India will know what I'm talking about that this is the real deal for the material. This is a hard knock life for a clutch! It took quite some time and effort to fix her up ready to sell it to the next tourist. After all I have to say that she was a good and reliable bike with us. So here is what went wrong: The panniers break quite often as they were shitty and mounted way too far in the back. A cracked clutch case – thanks to the mechanic that overtightened the bolts. The swing bolt cracked right after a mechanic overtightened it. The electric starter only worked every once and a while – never got it fixed.
The worst thing about having this bike in India were the mechanics. They rip you off and the work is usually shit – if it is done at all. The big workshops are not really able to repair anything – they just exchange parts. The small ones most of the time did not do good work at all. Finding a good welder is next to impossible.
Anyways, in my opinion, these bikes are quite tough little fellows that really have to work every day. Just make sure to always stick with the mechanics when having anything done. The life of these bikes is just not comparable with the one of a central European sundayniceweatherbike. Even though they usually do not come in the best shape I would definitely buy one again.