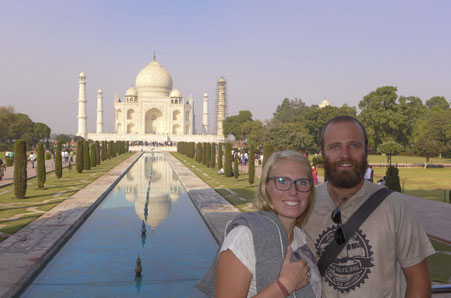 Three o'clock. Middle of the night. I'm sneaking through our little room and hoping not to wake up Joerg. To keep the noise of the cars outside I closed the window, but that doesn't help much. We are in India.
Two weeks ago we missed the border from Nepal to India. There were trucks, tuktuks, motorbikes, cows and people everywhere, but no barriers, gates or what so ever. We turned back and realized that the small border building was hidden behind a friendly brown cow… As we could finally get the official check our passports, we had to put our details into the big book for foreigners before we could start our trip to the most popular building of India. We didn't want to miss the Taj Mahal. We needed 2 days to get there. We passed a lot of flat lands, small villages, crowded cities, the little and dirty Ganges river and ended up in the industrial city of Agra. In this very dirty and crowded city we had a great guide visiting the Taj Mahal. Not really easy as in Agra haggling is really big deal. At the end it was nice though and we could even find  a professional check up for Sarah.
We started to realize that India is just a lot of everything:
   Much black water in the rivers, much white marble, many colored sari.
   Many vegetarian people, Much good street foot, many filled samosas.
   Many motorbikes, much more cows and dogs on the streets.
   Many different religions, many more goddesses.
   Many people wanting money from us, much more were happy with a selfie or handshake.

Here in our little hotel room I started to realize, it's maybe a bit TOO MUCH. There were so many impressions in the last year. My mind is still in Kazachstan and tries to catch up with everything, while in between so many things happened… Silke and Frank, Maria, leaving Coocie, Annapurna, Royal Enfield, Stephanie, my parents, Kathmandu, Pokhara, Bardir, … The pictures in my head keep turning and turning while outside the cars still horning.
"Either you love or you hate India" they said. We like it, it's a surprise, surprisingly interesting, beautiful, tasty, friendly, but unfortunately dirty, smelly and loud at the same time. It needs our whole attention.

Five days ago: We went to the old mogul fort in Fatehpur Sikri. On the one hand it's an impressive huge building built by Akbar. Who was a descendent of the great Dschingis Kahn and the grandfather of Shah Jahan, the builder of the Taj Mahal. It was built as the capital of the empire. We always try to add parts like this to the big puzzle of the history of Asia and the world. On the other hand everybody wants a part of the tourist money all the time. The children as well – unfortunately. They follow you for hours through the these fascinating old stones and hope for one dollar or euro. Just yet another thing to think of while getting the biggest history lesson in our life. We know this game, we did see many begging children, but it's never easy. Still it is hard to handle experiences like this.
I'll try to get some more sleep. I went back to bed, but now Joerg wakes up, like so many times in the last few weeks. He doesn't sleep well, he thinks about the experiences, he feels tired as well. It seems like we got travel weary. There are too many experiences and too less time to recover everything. It feels strange, we love this kind of life, it's our own decision but at the end we have to realize that we need a break. We need holidays! If we want to continue we have to clear our mind and unfortunately it's not possible in a country like this. I struggle a lot but at the end we decide to go back to Germany for a few weeks. It's Christmas coming up in a week, there is always a place for us in our parents house and many old and new friends will be happy to see us.

Slowly the noises of the cars are getting louder again, the first sunlight comes through the dusty windows, but with this decision made we can sleep for a few hours.
5 days later we did our last kilometers with Sarah, travelled 12 hours with an Indian night train, spent 8 hours at the airport in Dubai and were finally taken the last two hours from Frankfurt to Herxheim. We are tired, but happy with a good coffee and tea in my mum's kitchen.