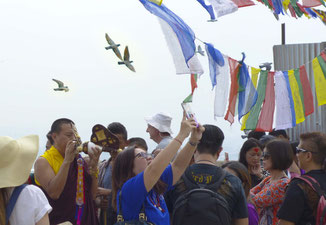 The Himalayans, the rooftop of the world, 8000m high, several base camps, trekking, people going to their limits. Stuff like that that was going through our minds when thinking about this country.
No travel guidebook can really tell you what Nepal is really like.
At one point a couple of months ago, Ann-Katrin sent us some pictures of Nepal without a comment.
Did she really want us to come to Nepal? Of course she did. So we took our remaining holidays to go see the kids in Nepal.

Once arrived in Kathmandu everything was good. A small airport, getting our Visa at a machine took quite some time as some of them was not working. Quite annoying procedure when you want to see your kids after quite a while. After we finally got our Visas, we went to dig our packs out of a big pile of bags before we finally got to get out of the airport. The reunion with the kids was really nice but we quickly realized that this was going to be adifferent world as the one we are used to.

Just about 1000 taxi drivers getting on to you shouting out their prices and pure chaos everywhere. The ride to the guest house was just as chaotic … a million cars, bikes, rikshaws, buses everyone blowing their horns and in between all the people and of course everything in left hand drive. We have still not really found out how the police guys were guiding traffic at those junctions. Power lines of huge bundles were running down the road, woven into each other at each post finally going into the houses. Disabled kids with deformed legs rinding down the streets on skateboards begging in traffic was a rather shocking experience for us. Something we will probably not forget.  

After we finally got to our guest house we headed off to get some coffee and chat. Of course there was a bunch to catch up on. On the next morning we headed off for sightseeing right away. Our first stop was Swayambunath. A temple that is also called monkey temple as there are a bunch of monkeys living there. The big stupa is a quite big eye catcher surrounded by temples and houses. As everywhere in Nepal Buddhist and Hindu elements get mixed up quite strongly.  

So what is a stupa?
Originally it was a tomb for the Indian kings. Today it is more a monument for Buddhas and Dharma. It is something equally used in Hindu as in Buddhist culture. Above the white hemisphere there is a golden cube with Buddha's eyes on them looking in all directions down the valley. The "nose" in between them is really a the Newari sign for the number one. A symbol standing for the unity of theory and real world. The dot on the forehead is the third eye looking into the future equalizing the enlightment of Buddha. The levels of the roof symbolize the several steps on the way to enlightment while the top one stands for the Nirvana.

Of course this place was full of tourists and pilgrims and of course monkeys trying profit off the sacrifices between all the prayer flags. Finally on day two we got to buy our first souvenir – a Mantra chiselt in stone – supposed to bring us some luck. The way back we decided to walk. A nice walk where we got to see the holy cows sleeping in the middle of the traffic beeing calmed by the horns  of all the cars bikes and buses. We pass a bridge over a river where the water buffalos and pigs roll over on the rather dirty river banks. Unfortunately this was a sight we were about to get used to. On the way we went to get our first real Nepali meal. We had to wait for more than half an hour for our fried noodles and our Momos in this tiny little shop. It was really worth it though. Another thing we were about to get used to.

Back in the guest house Joerg headed off again to get a car which we were going to take to Chitwan national park. Usually there are no rental cars without driver in Kathmandu. Joerg did it somehow though.

So on day 3 we headed out of the city towards the park. Just 205 km – sounds easy – it was not!
A flat tire even caused us to make it an overnight trip. We finally arrived in Sauraha on day 4 and found an awesome lodge with good food and nice staff. They even gave us a cooking lesson as we have already shown in one of the last blog posts.
The rest of the day we used to discover the village and organize a trip through the jungle. Strolling down the roads we even got to see a Rhino crossing the river towards us. Fortunately it stopped on a river banks far enough from us. As we were told they are quite fast runners and tend to run over you and everything around you occasionally. Up to 45 kmph is defenitely quick! The locals really don't like them too much coming close to the villages. For us it was quite cool to see!

Further down the road we ended up at the parking lot for the elephant stables. As it was on the other side if the river we just crossed barefooted.
On day 5 we started our jungle walk with a canoe ride down the East Rapti River. Besides a lot of birds we got to see 2 types of crocodiles. Once arrived at our destination we were instructed what to do in when encountering animals. Bear, Rhinos, Boar, Monkeys and Tigers. We got to see a lot of monkeys and wild boars and elephants. The other ones we just got to hear. It was a really exciting and nice walk for us anyway. On the next day we headed back to the lodge where our car was parked. On the way we saw a lot of Elephants bathing in the river. The evening we spent quite exhausted in our lodge.

On day 7 we went to Gorkha – the former residence of the first Nepali King. The palace is quite far uphill and is used as a Hindu temple today. It took us quite some time to get up and down all the steps. We first encountered Nepals main ways of transportation.
On the way back met an 8 year old carrying two jars of drinking water back home. He spoke quike good english and we helped him carrying the water back to his family. While we were waiting for dinner at the families restaurant the kids showed us some traditional dances and songs in Nepali and English. Generally it is quite easy to get in contact with the Nepalis and especially the kids are quite proud to show off their english skills.


On day 10 we got to wake up on 1430m in Nagarkot. From there we had planned a two or three day trek. It was a sunny, cold and clear morning. The sunrise we got to see from the rofftop of our hostel with stunning views on the Himalayans.
We headed off through the woods up and down and a lot of dusty roads alongside the rice terraces beautiful waterfalls and small villages. Here you could still see a lot of damages from earthquake 2015. Just before we entered a small village we found a watermill driven by a nice lady. A mill that we would only be able to see in a museum and she was very proud on her work. We had a chat with hand and feet before she walked us to the next village where we intended to stay the night.

Our last night we spent in a simple but cozy lodge surrounded flowers and marihuana plants which grow just about everywhere in the mountains. Our host was a Sherpa which played the Sherpa song on his traditional instrument for us before we left.
Who are the Sherpas?
The Sherpas are people which originally come from a region called Kham, located in the central Himalayans. When the British Mountaineers  first came to the Himalayans they hired Sherpas as porters. Since then the name is used for porters high up in the mountains.

The way down was again on steps – a lot of them. It took us just over 1 hour to get down. A lot of the school kids do this twice a day! After a short bus ride we found a really nice coffee place. A good coffee is quite hard to find in Nepal. The Boudhanath- Stupa  was just about the last sight on our list.


The day 12 I was exhausted and spent in bed while Joerg and Norbert headed off for a test ride on a Royal Enfield Motorbike. Quite a highlight for Norbert. After the ride we went to see the Pashupatinath temple where the nepali burn the dead bodies before the ashes are given to the holy rivers. The funny looking people are Sadhus. They are something like begging monks who would pose for pictures and give you blessings. Of course they are wanting some money for their services. They are seeking closeness to their gods and meditation.
One of the 33000 gods had a heart for me so that I was back on track for our last day in Nepal. We went to the Kings palace in Kathmandu and chatted in one of the really nice cafés  on Kathmandu.
In the end it was super exciting to see this totally different country and culture. For us it was a one of a kind trip so far! Coming back to normal is just a little different now. Sometimes it is just right to see the things from a different perspective.

Thanks to the kids at this point of time for this awesome experience. We can even learn stuff from you.