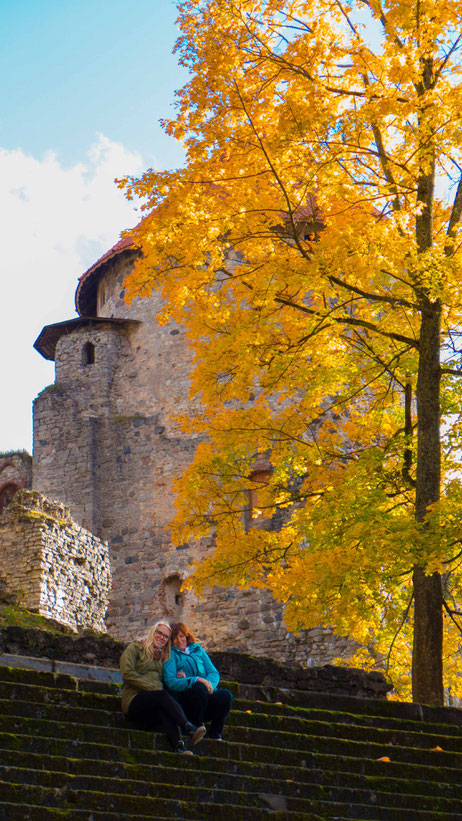 Of course we know that our last blog post was actually way too long ago. Of course there is a lot we actually have to catch up with, but first things first. We are now sitting in beautiful Slovenia and our next adventure just started. We have rented an apartment for a few months in order to clear our minds for the things to come. It's a beautiful place with nice views to the Slovenian Alps and the Sava river at the same time. So what are we doing here?
About 10 months ago we decided to change plans and head on west instead of going to Japan. So we circled around Mongolia for quite a while and went through Russia before the winter hit Siberia. So by the end of September we finally left this beautiful country with its amazing people. We took the route via St. Petersburg before we finally arrived back in Europe.
Klick here for the German version.
As we were expected by Ann-Katrins Mum and Dad we rushed through Estonia and went to meet them in Riga. We spent more than a week with them exploring Latvia. Ever since we had passed the Ural Mountains travelling got as easy and directed as we were used to two years ago. Touristic sites were clearly advertised, information easily accessible to make your visit as effective as possible. Not really what we are used to but very helpful in some ways. The thing that really thrilled us about the Baltic States was the amount of time saved by non-existing border controls. An advantage of the European Union that cannot be emphasized enough.  No more waiting lines of hours. No truck drivers that would have to wait for days. No hassling, no money, no extra documents and no worries. Besides that it was quite relaxing to get all your information well prepared in English or even German at the sites instead of having to hire some guides or extensively search online. On the other hand it instantly got a little more difficult for us to get in contact with the locals or find camp sites. With Ann-Katrins parents we visited quite a few places. We started in Riga a quite old yet modern city. Historically quite interesting and beautiful to walk through at the same time. The three castles of Sigulda, Cesis and Rondale were the highlights of the country though. Shimmering in the beautiful colours of autumn the castles perhaps showed their most beautiful face to us. Beeing close to the outdoors and the weather was always quite thrilling throughout the whole journey. Latvia showed us pretty much everything weatherwise. Visiting the Baltic turned out to be a gigantic test procedure to our windbreakers while on the other hand we were having lunch in T-Shirt at Rondale Palace. The rest of the time was a little directed by heavy rainfalls which don't really bother too much driving around or visiting museums. The week was over in no time and our guests went back home.
We spent another two days right outside of Riga watching beavers and planning the next few months. But what are we really talking about? 9 Months ago we received the message that we would get a roommate quite soon. One of the smallest human kind that is going to share its home and life with us. So we were kind of busy to straighten things out and get everything prepared. From Riga we headed on south through Lithuania and Poland all the way to Germany. On the way we stopped at Hitler's Wolf's Lair. The gigantic left overs of a place that was meant to give Adolf shelter from his enemies. At the same time it was the place where he escaped the famous Stauffenberg attack. Today you can visit the former bunkers used by all the big Nazis like Hitler, Goebbels, Bormann and co. The massive bunkers were topped by 8m thick reinforced concrete. With dozens of tons explosives they had to bust them from the inside before they left. Mother nature has been doing what she can do best. Take it back – well done! From there we pretty much went to visit our parents and friends in Germany for a few days before we headed on to Slovenia.
We have spent quite some time to find this awesome place to live for the coming few months. Here we have prepared a little nest for the three of us. Little Lisa is living with us since just about three weeks keeping our minds active. Now you will probably ask yourself what the plan is. Good question – we can't really tell. We'll decide in a few months if this would be the end of our journey or if we will continue to wherever. For right now we are happy where we are, looking forward to the things to come.