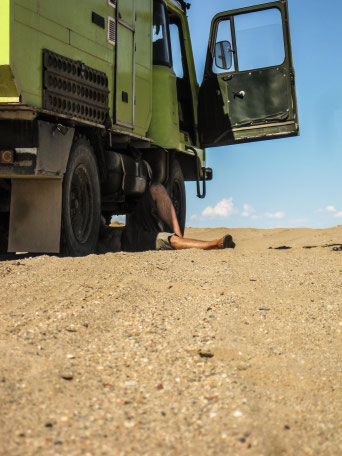 In the last post we told you about our route through northern Mongolia. This time we would like to tell you the rest of the story. Unfortuntely we couldn't really always enjoy the stunning landscape as we should have. Pretty much half of our electronics broke on the border crossing day. So we were in Mongolia without navigation and camera.
As we couldn't fix any of that we had to get our cells to do that. Of course we have paper maps, but in Mongolia these turned out to be very hard to "interpret". The OSM material for Mongolia is exceptionally good though as the Mongolians use it as well. All the drivers use GPS for choosing the right track. Except for the small screen the cell phone is doing quite good for navigation. At least we have managed to get through the very unpopulated northwest of the country. So we wanted to do a little side trip to the Uvs Nuur lake. After stocking up in Ulangom we headed off to the dunes and the lake as my cell phone decieded to quit as well. Anyway, we found the lake and the dunes. As we arrived at a place that seemed to be like an oasis to us, we decided to call it the day. It was just a few yurts inbetween the dunes at the lakefront. Quite cool place to get yourself a beer and enjoy the place.
So of course right when I sat down a Monglian guy came and started inspecting our car very seriously. While he was getting in and on and onto everything at the car, I was just about to do the same thing with his horse.
Me getting a little angry with the situation, he decided to sit down in front of our door. So I sat down as well trying to start a conversation. Well, it wasn't working. Mongolian is just so different from any language that I have heard and even the gestures are just totally different. After half an hour he just went off. Thinking that would be the most challenging part of the day I saw this strange looking piece facing up from my front axle. That wasn't supposed to be there. The top leaf of my leaf spring had decided to give up on us. Of course we were 130km away from paved roads, villages or anything like that. As the three yurts were not going to have a new spring for me, I built a clamp around it, to get to the next city. It was just going to be some 4 wheel drive passages, a few dunes and a lot of washboard to get to where we wanted.

The next morning we headed off very sloooowly back to Ulangom. We really did make it the 130km on the same day. Of course it wasn't possible to find a place or a workshop on that day but one of them told us to come back in the morning. The next morning they wanted to weld it. Welding a leaf spring is definetly not an option as it will most likely crack again right beside the joint. After a while driving from one place to the other we figured that there was no good option. We decided to ask the ADAC for help. Well our first contact to them on this trip was quite disappointing as they would not deliver anything to Mongolia and for sure not on trips our with our length. They didn't even want to support with the shipping if we had paid extra. Okay … we decided to try it to Ulan Batar. As Ann-Katrins cell phone was the last man standing we hooked it up with maps and stocked up our supplies as it would be just about 1000km to Ulan Bator. As if it wasn't enough Ann-Katrin wasn't really feeling too good these days. With our sandboards we built a bed in the drivers cabin so she could sleep all day while I would cover distance.
It really takes some effort to get a good lane in between all the tracks. So after a week I was quite happy to take a little break in Kharkorin and the volcanic crater. Both of them were really nice to see. Even though there is not much left of the monastery in Kharkorin it was still quite thrilling see it. We didn't go to the hot springs as Ann-Katrin still wasn't too good. The clamp was still doing a good job, so the rest of the way was a piece of cake.
We got there late and started to find a workshop on the next morning. Getting a new spring made, has somehow become quite difficult even in Germany. As usual people are just so friendly and helpful, the third workshop understood what we wanted and brought us to the specialist. Within a day we had a new leaf made. It was quite a lot of fun to work with those guys as they were doing a really nice job. The following days we spent with a few friends in Ulan Bator before we wanted to head on to the Gobi.
The road to Dalanzagad turned out to be the best road that we had seen in this country. From there on it was pretty much opposite. The road from there to the dunes was a torture. On the same spot, again 150km away from anything and again about 1000km from Ulan Bator the leaf on the other side decided to break as well. Well, I still had the clamp, we had done this before so the plan was made. Again after one week we turned up to the same workshop. Their faces were not really amused though as they thought their spring was faulty. In a pit stop of 4 hours I had a new one.
Our home is now all straightened out and almost all of our electronics are fixed as well.