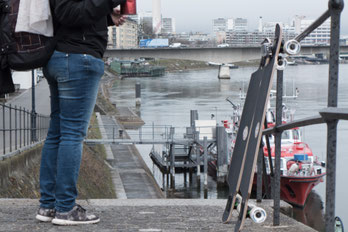 We wanted to be back in Kirgizstan at the beginning of March. But plans always change. Due to the delay of our Russian visa we had one more week in Europe to spend. So, what to do?
We love boarding. It doesn't matter if snowboarding, surfboarding or mountainboarding… We love the feeling. Unfortunately there was no more snow but it was too cold for the sea and too wet for the mountains.

We decided to try something new – longboarding!

We never did this before. Never even Skateboarded. So we went to Titus in Karlsruhe, bought two Long Island Boards, got our stuff and went to the train. We were really lucky and did find a couchsurfer that spontaneously hosted us in Basel.


The idea is easy! There is an European bicycle track close to the Rhine river all the way home.

Of course we were not prepared so our first stop was city center to buy a map. On the way to the book store we did see the river once and we started to realize that this will be a real challenge. It is quite sportive to push all the time and the boards crossed the road several times without us… We were very surprised and happy to reach the French border without any accident… Few meters later Joergs board was stopped by a little stone and he stopped a few meters further with his hands on the road. So we decided to wear the old protectors we found in the garage before we left. Then, at three o'clock the rain started and before we found a hotel we were totally wet. At the end it was a successful first day. 25km and still alive.


The next day the rain stopped and we passed many small villages on good roads. Neuf-Brisach, a small UNESCO fortress, was 40km away. Maybe a bit too much… but the motivation was still good and there were eclairs and tartes flambée waiting for us.
During the day Jörg tried to improve his board skills. If you don't crash you don't push at the limit. And he crashed several times…


The following day we realized that 40km are really a bit too much for beginners. Every part of our bodies hurt. The way from bed to bath was horrible and we felt every muscle. Only the warm sunshine could get us to the boards again, but after a coffee, baguette and cheese the pain got less with every meter we did. We were running quiet good. If we made 35km per day it was possible to reach Strasbourg on Friday. Unfortunately there were 6km unpaved road right before the lunch break. The mood was quiet bad and Jörg hat to draw out a safety eclair. The same situation happened two hours before sunset but at the end we made the 35km and decided to spend the night camping in the forest. We made pasta on the hobo (wood stove) and had a cozy evening at the warming camp fire.
Of course it was not necessary to be afraid of the low temperatures during the night with our really good sleeping bag but of course I was. But they keep you warm till -20°C and it was only around 0°C. So in the morning we were highly motivated to make it to Strasbourg that day. While we had a freshly brewed coffee and tea we wrote some couchsurfing hosts. The way was close to the Canal du Rhône au Rhin and really good paved. For the lunch break we asked for two liters of water in a small village and it turned out that Europeans can be as friendly as everywhere else. He came back with water and some fresh orange juice extra. Awesome! Unfortunately the pain in Ann-Katrins hips, that already started the day before, got worse. The last meters to our host were not that nice. But we made it! To reach Strasbourg Friday evening was an awesome job for rookies like us!
After the night in Strasbourg we took the train to the border due to Ann-Katrins hip pain. There we met with Ann-Katrins father, went shopping in the supermarket and had some final baguette, cheese and red wine in Herxheim. In the morning our host already bought a very tasty religieuse (a really good alternative to éclair) and, of course, we went to the Münster to take the obligatory finisher foto.