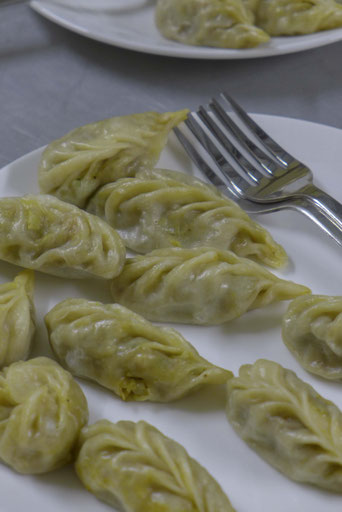 Yes... We know...
Right now we need too much time for new blog posts. But imagine:
A cold beer, your family or friends, which you didn't see for tooooo long and the sunset behind the river or the mountains.
Sorry, but sometimes prioritiy is somewhere else than online.
Long story short. You still have to wait for the pictures of our great trekking tour and get the latest news first.
But don't worry, the news are really tasty!

We are on the road with Ann-Katrin's Mum and Dad. Right now we are together in Nepal and they love to try all the lokal food.
All the Dal Bhat, Chowmein, Curry, Samosas, Pakodas and for sure the Momo's. Our favourites are Pakodas, small, fried vegetable balls. We all love them and on accident we found the best chef to make Pakodas at the Tharu Mahal Cottages at Chitwan National Park. We already had them for lunch, but they a
were really the best. So we decided to have them for dinner as well.
Yammy... we are looking forward to it, but it's getting better! The chef invited us to join him in the kitchen! A fantastic chance to learn how to make Pakodas and Momo's!!!


We like to send you the smell and taste, but unfortunately it might need some more years till this will be possible via Internet. :-(
BUT: We have the recepies for you! So don't wait. Start cooking!


Pakoda:

Cut pea pods, cabbage, carrots, paprika and cauliflower into short stripes. Spice it with ginger, garlic, masala, coriander, chili and cumin, add a little water and each two or three tablespoons of flour, chickpeas flour and cornstarch till you have a homogeneously paste. At the end add peanuts and form balls, the size of wallnuts.

While forming the pakodas heat soyaoil in a deep pan and then fry them.

Take them out, let the oil drop down and enjoy them!


Momo:
For the dough: Mix water and flour. The consistence shoud be like yeast dough.
For the filling: Cut cabbage, onions, carrots and pea pods in very small pieces. Spice with ginger, garlic, masala, curry, coriander, cumin, salt, pepper and special Momo massala. Add some oliveoil and butter and mix everything.
After that form the Momo's. Check out the video to see how.


Aren't they nice...

In between heat a big pot with pure water. The lokals use special Momo pots, but you can use every possibility to steam them.
Steam the Momo's for approximately 10 minutes, serve and enjoy them!


We hope you like them as much as we do! If yes, why not sending us some pictures of your results... ;-)