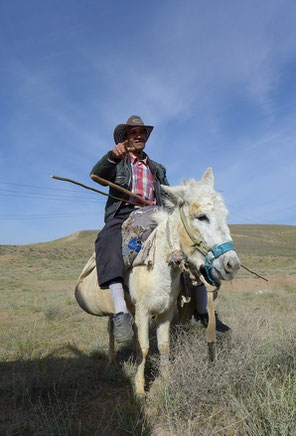 While some go working all day long and others really dig into their Master theses we are on vacation. So pretty much we are doing nothing most of the time, you think. But what exactly are we doing now with all that free time.
We call it travelling. Travelling is not anything like the average vacation most of us know. So here is what our days look like: Usually we get up around 7 in the morning as the body slowly adapted to sunlight hours, plus it is getting hot inside of the car when the sun comes up. That's actually a quite good thing, because you are going to need the time of daylight. So around 7 we crawl out of our cozy nest, get a shower, make some coffee and get our breakfast. The conditions are perfect. Sun is shining, a little refreshing wind blowing and before we even got to finish our breakfast the first curious visitors are arriving. Our first visitor that day is a nice guy with his 51 friends. Fifty sheep and one donkey. As, of course, he did not know any of our languages we told him in "hand & feet" what we are doing and that we would be leaving his precious field shortly. As it is quite polite here we invited him for a tea. The standard questions for kids and marriage are quickly answered. The rest of these kind of conversations are usually quite laborious. A quick picture after the tea and everyone is getting in the saddle.
So it is 11 am before we actually get everything packed, the dishes washed and hit the road. We wanted to go to Zanjan, an half a million small-town in the northwest of Iran. We have to stock up groceries, wash clothes and get a tire fixed as one of them was damaged the day before. The bad roads make it quite a bit harder for the tires. The last 30km to city limits are done quickly before the usual chaos is taking over. I just cannot get rid of the feeling that Iranians are schizophrenic. Whenever they close the door of their car they let their dark side take over. All of that polite, warm and welcoming behavior is just gone with the wind.
After about one hour we finally made it into city center. So it's 12 whenever we found a nice parking lot. With a big backpack full of dirty clothing we head off to find laundry place. It takes about 15 minutes to get invited for a tea into a small grocery store. As we are foreigners you are frequently invited and it is almost impossible to decline. So we sat down in that little store and decided to get our groceries here as a perfectly German speaking guy enters the shop. He told us his name would be Mohammed as we surely couldn't pronounce his real one. Within a minute he decided to show us the city and bring us to a laundry service. Mohammed is getting his degree in linguistics and speaks perfect English, Azeri and German. After 2 hours of sightseeing we finally arrived to a laundry place so I could finally get rid of the heavy backpack. After that we are in a hurry to go to his mother's house as we are invited for lunch. We are having Dizi, a traditional Persian dish with a soup and a main course of meat, potatoes and beans and of course some tea after that. Again we are in a hurry to get to their garden outside of the city as Mohammed's father is living there taking care of the grandparents. It just takes a couple of minutes until curious visitors arrive to that place as well. Our car is just not so easy to hide. All of them are there. The parents in law, the grandparents, the cousins and we in the middle. Of course we get tea, fruits, watermelon, a million questions and we give tours around our small home.
It's exactly what we came for. Getting to see all of that culture, learn about them and from them. Any way there is a lot for us to be aware of. The culture and the common manners are quite different from what we are used to. So whilst getting all that input you of course try to improve our language skills to make conversations a little easier. So after we are getting to an end with our English-Farsi-German talks we head back to the car around seven pm. When we arrived to the car we decided to prepare some dinner and call it the day. Preparing dinner inside the car, all of a sudden we got hit. Yes. A lady crashed into the truck quite hard. As we get out we saw that she hit our bike carrier on the back. Nobody was hurt and on our truck only the tail light was broken. The Peugeot of the lady had quite some damage though. The whole tail gate including the window and the lights were crap. They offered us some money for our broken light, but we declined and were invited for dinner the next day.
It is nine by then and we decided to head out for dinner as it was getting quite late. Right after ten we finally made it back home close the door and really call it the day.

Sometimes it seems that travelling is just like my parents described the time in college. It's so much fun a lot of times. There are so many stories to tell after it.  There is so much to learn and there are so many exams. It's a little like studying the world trying to understand what it is all about. It's quite some effort to handle all the input but after all you get some really nice insights out of it while it is quite fun to get the experience itself.