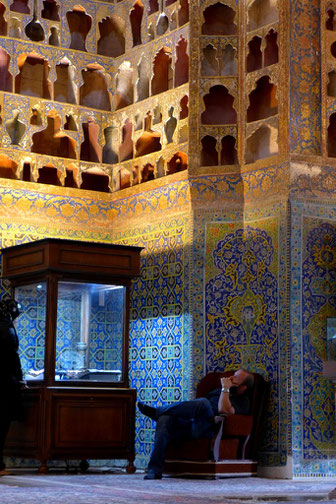 We've heard a lot. We've read a lot. We've been warned a lot and we felt a lot of excitement. Of course we were really curious what the Iran was going to be like. We've expected a lot and got overwhelmed. Iran is one of the most interesting countries we've ever visited so far. Besides the chaotic traffic, pretty much everything is new for us in this country.
To start of with it is rather difficult to obtain a Visa and get through customs. Once you entered the country you have to find a place to change money. As the country is not connected to the international banking system, it is not possible for foreigners to get money at ATM's. So you have to bring cash. Next thing is the the scarf and the long top for the ladies and long pants for the guys. Doesn't sound all that bad? We've already seen 50°C. Right after crossing the border, temperatures were pretty nice though and landscapes were amazingly green. As we entered on a Friday, the Muslim Sunday, we were to find out what locals do in their weekends, right away. Camp and BBQ. The first 80km in the country we couldn't find a spot to park as sheer every Iranian came out there that day. Pretty much it was carpet next to gas stove next to pop-up tent next to carpet next to pop-up tent next to ….and so on. Two things are absolutely necessary for this. A carpet in the size of the family and a gas stove. With these two very simple items yo can literally make the weekend for the whole population. Fine for us as we get a taste of the Persian hospitality we've heard about. Back to the gas stove. It is everywhere. They really get five course meals and liters of tea on the carpet with these simple little things. You can get them refilled or fixed right at the road side. So weekends are always safe. Maybe that is the reason why they are so relaxed.
So we head on along the border to Azerbaijan to our first destination Ardebil. Right at the start we get to see a milestone of the long and rich Iranian history. The Museum of Safi ad-Din. This guy founded the Safawiye-Dynastie during the Mongolian occupation in 13th and 14th century. They were to take over the power just 150 years later.
The next stops were Zanjan and Sultaniye and finally Tehran. Sultaniye is one of the few places that have not been destroyed by the mongols. Because of the nice climate it even became residence of the sultan and capital during that time. After that it was left behind. Today only some walls and the impressive mausoleum is still to see.
Finally arrive in Tehran we wanted to apply for our Turkmen visa asap. Turned out that the Uzbek Visa (which we need for Turmenistan) was not ready. We had already applied in Baku with pick-up in Tehran but something went wrong and we had to apply again. After three days on embassies they told us to come back in 10 days.
Time for us to take a trip to the south. In Qom we visited the mosque of Jamkaran. Besides the history and the hospitality we get to learn Iran a lot about Iranian religion. 90% of Irans population are Shiite Muslims while in total most of them are Sunnite. Shiite Muslims believe in 12 Imams besides the prophet Mohammed. The Imams are outstanding Persons who were able to understand the revelation. In Jamkaran the 12th Imam Mahdi will return one day and create a world of peace harmony. We arrived at the place on day before his birthday and got to see all the preparations for the millions of expected people the next day. We found a nice and quite spot to camp a km away from the mosque. In the morning the police came to pick us up. After we had a chat at the police station, explaining what we are doing, everything was fine.
In Esfahan we got stuck for a couple of days. It was the capital of the Safawid dynastie which we had learned about in Ardebil. This city has ot really faded in the past 500 years. In addition we met some really nice people here in Esfahan. We go from sightseeing to invitation to sights and invitation and even a wedding. Thanks to the unknown bride and groom at this point. Stay tuned for more on this story.
After we have left Mr. Reza, Marjan and their families we headed back to Tehran with a short stop in Kashan.
Expecting the worst with our Visa, everything went smooth and easy. We were done in half a day. As we had enough impressions we decided to go to the mountains to resume and take a break. A nice lake off the track… we thought. One more time experiencing the camping and BBQ habits of our Iranian friends, it was. We found a quite spot in the corner and enjoyed two days of working on the truck and riding our bike. After that we head of again as we have to take care of our Iranian visa this time. We have already been here for 1 month and or visa has expired. As this country is stunning we want to stay longer and extended our visa. The Bazars offer everything, the people are awesome and, besides all the Kebabs, the food is really good as well….