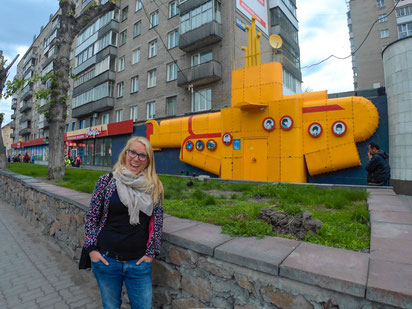 We are traveling a lot, so we are used to new situations and new countries. Anyways… for us most of the countries we visited so far were almost unknown before we entered. We didn't even know the capitals of Azerbaijan, Kirgizstan or Kazakhstan….
This time it's slightly different. We went to Russia. Everyone knows Russia, its big capital Moskva and some basic facts about this huge country. Of course we thought we do as well…
Siberia is cold:
We thought so! The first two days in May were just slightly above 5°C but then the temperatures rose to 30°C and never dropped under 25°C till today. We enjoy this perfect summer and the great evenings very often with a nice campfire.

Russians drink Vodka:
Right before we entered Russia we filled up our vodka stock. Now we could offer one Kirgiz, one Kazak and one Russian vodka but – we didn't find Russians that wanted to drink with us… To every Russian men and women that came for a chat we offered vodka. They always wanted tea or cake and it took us more than one week to find a Russian guy that had a vodka with us.

The russian looks
Of course you will recognize a Russian immediately on the road! He, well trained, has a little flat face and blond full hair. She is tall, blond as well and always in highheels and mini. We don't know if Russians in Moskva or St. Petersburg look like that, we will check it out later. In Omsk, Novosibirsk and the Altai you don't see a difference between the Russians and us Europeans. The faces are just as different as the fashion and you see bankers, hipsters, chic ladies and grannies like at home. We like it. Since a long time people didn't recognize us only because of our looks.
Kilometers of Vodka in the supermarkets:
That's right! The variety of vodka is impressive but there is something that makes Joerg and the guys happier: Every small grandma who sells a few groceries has a tap for fresh beer as well. So you can get it everywhere! In the normal supermarket you already find four or five different types, normal, unfiltered and many more - on tab! The best are the beerbars… It's not a pub, it's a small shop where you can buy 20 or 30 different brands and kinds of beer. Of course they are all as well fresh from the tab. As well you get dried cheese, fish, meat or other snacks you can enjoy with the beer. Nothing else – keep the focus right!

Russian people are not very warm and welcoming:
Where the hell is such a prejudice coming from??? We met super friendly people. All of them like to have a chat with you. Often they offer you tea or coffee and you feel home with good friends within minutes. Even the owner of the ground we took over for days together with the guys. We burned more than one tree there and the only thing he asked us polite, was to leave no waste. Hell, of course not! In Germany the owner would have called the police, before even talking to us… The Russian guy came back in the evening and had some coffee and cake with us.

Russia we really, really like you! Glad to have a visa for two more month when we will be back from Mongolia!