What makes Iran so special? The answer is easy: It's the people! In none of the countries we visited before, people waved at us so often. "Welcome to my country!", "Where are you from?", "Can we take selfie?"…  I think Iranians took more pictures of us than we of them. We got so much food and gifts. If we stayed longer we would have to get a trailer to carry all the presents. We were invited for lunch or dinner to their houses almost every day.  

We spent lots of time with these great people. Here we can show you only a few of them. However THANK YOU ALL! We had an outstanding time…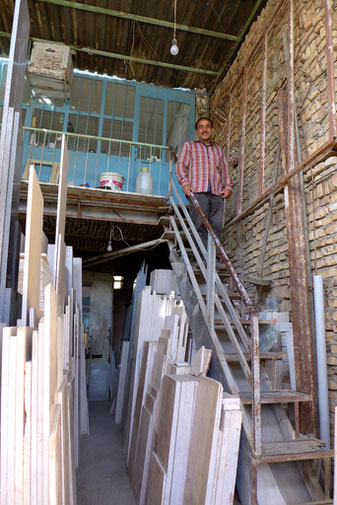 Tehran is divided in many quarters and in every part you can buy one special thing. Carpets, fabrics, furniture, lamps, highly specialized stuff for industry and as well one quarter for spare parts of cars! Of course a place we must see! Jörg wrote a long list. We knew the rough direction and then asked the people on the way. Unfortunately we ended up in the junk yard quarter. Then Ali met us. He used to live in UK for some time and loves to talk English. So we had a quick lunch together before he had to go back to work. He sells marble bricks. But, the only thing he did was to lock the door of the shop. Then we all took a taxi and he brought us to the right quarter for the spare parts.  He really spent his whole afternoon with us getting all listed parts. We are super grateful. We realized the spare part quarter isn't a quarter. It is a city in the city. Paradise for Jörg. But we would have needed days to find everything due to the fact that there is one whole shop for every special part. One shop for electronics, one shop for breaks, one shop for single spring leaves and so on…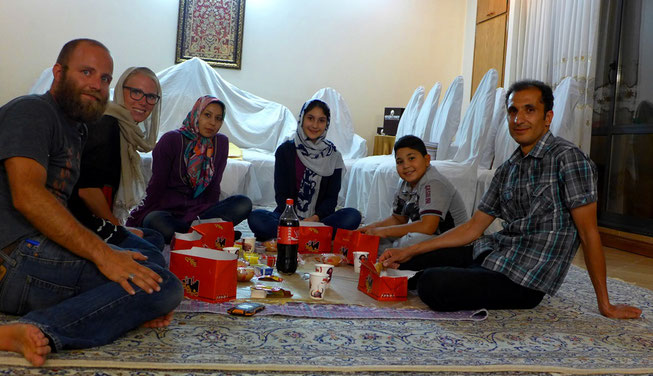 Hassan sells fabrics in whole Iran and was accidently in Tehran at the same time like we were.  As well he spent the night at the Imam Khomeini shrine and we had some nice talks there. At his last evening in Tehran he invited us to Isfahan to show us his hometown. So a few days later we met again. It was already 6pm when he picked us up. At that time we were not confirm to the behavior of Iranians and expected a nice dinner with his family. Though this started not before midnight. Iranians are night active people. In the evening their day starts. Hassan showed us the best places around the city and brought us to the top of the highest hill for sunset. There we met some of his best friends and got the aperitif at their house. The time was passing quickly and when we met his wife and his children it was already after midnight. The son started his homework, the daughter was studying for the test at the next morning and we slowly started the dinner with tea and fruits. After 2am we had to say goodbye. For us it was a long, but wonderful day.
Maryan, Mr. Reza and their families: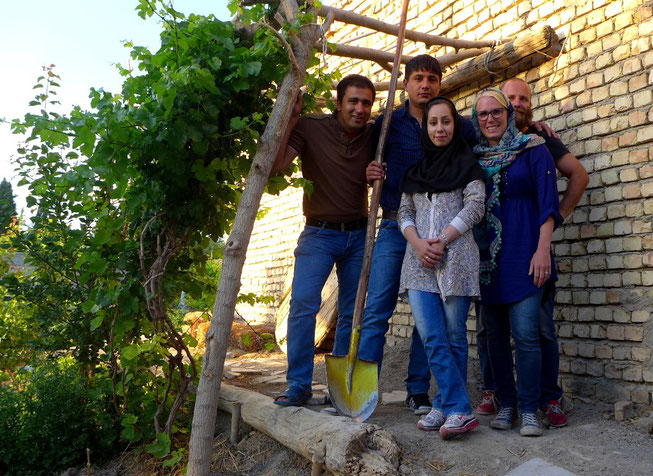 We were in the bus to Isfahan City Center when suddenly a young lady came to sit next to us. "Welcome to Isfahan." she said and then all of a sudden we spent the next two days together with her, Mr. Reza her English student and their parents. We had a lot of fun. We were cruising through the city, had dinner at the house of his family, tea and hubble bubble at her parents' house, met friends in one of the private gardens outside the city and ended up at a wedding party. After these two days it was so hard to say goodbye. But we had to go, because our visas were ready to be picked up in Tehran. We will never forget this great time.
Yes, we know. You want to know how an Iranian wedding is… Honestly, an European wedding is much better. In our case women and men had a separated party. Though dancing was very important at this wedding. It was dancing with a lot of body contact. Jörg didn't like the touching guys at all… Alcohol is official not allowed, for women unofficial as well. The ceremony starts at 8pm, after that you have to eat a lot of fruits and at midnight you start the dinner. Dinner was served outside, standing at a table and of course separated. In this case the space was limited, so the men ate first and had to wait at the parking lot till the women ate, because after the dinner the party ends for most of the 500 guests. Only the close family and the best friends follow the bride and groom to their new house and dance till the early morning. The next day all the guests come again to bring the presents.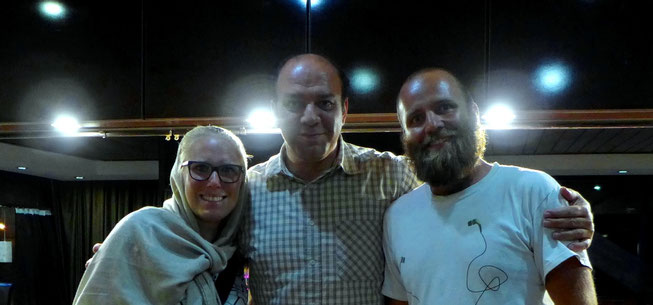 When travelling you sometimes meet the right people at the right moment. So it happened in Shiraz. We were looking for a parking place for the next few days when Maziar opened his door and offered to park Coocie at his yard. Only a few hundred meters away from city center. Of course we could use his shower and sleep at his house. We politely rejected, as we have everything we need. Of course he gave us the best tips for Shiraz. While talking we found out he is the owner of one of the best restaurants in Shiraz. Our travel guide recommends the Soofi 3 (GPS: 29°38'11.52"N, 52°32'06.62"E, Tel. 32998999). It is a really chic place with very good food. We were invited by Maziar and spent a very nice evening there together having the best Kebab of Iran. Thanks to him, his beautiful wife and his very charming crew.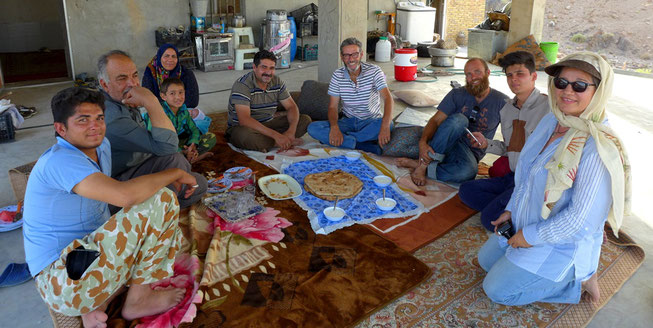 We were on our way through the desert with Rasida and Günther. We had lost the correct track a while ago, but the direction was right. So, we were going on anyway. We had enough water and diesel and expected to reach our minor destination for the next day. Then, in the middle of the dessert, one of these unexpected Iranian breaks. We saw a small oasis. Not marked on any of our maps. Our chance to ask for the way… Do I have to say anything else? All family members came together, rolled out the carpet, we are first invited for tea and later for food. Everything is self-made. The bread, the cheese and the super good oil made of goatmilk. All kind of fruits, vegetables and herbs are growing in the garden right beside the goat stable. The water comes from a little well at the close mountain and is enough for all of them. When we left this wonderful place back to the dessert the sun was about to go down.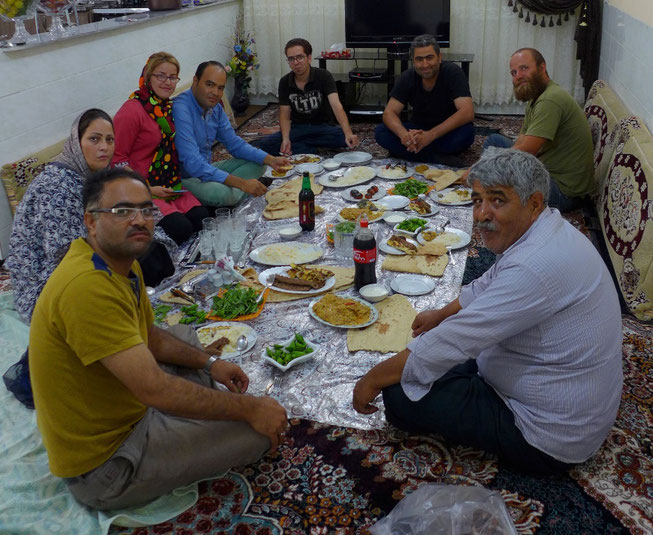 The Iranian need for security is a little too much when it comes down to taking care of foreigners. It is one of the safest countries on earth, but in their opinion the best place for the night is under the street light in front of the police station. They don't like if we choose the dark and silent places in the middle of nowhere. So as well this morning the head of police itself came to tell us our place in the mountains is a little dangerous. We already started to put all our stuff together, so we assured him to leave within 30 minutes to avoid a discussion. One hour later we were on the track as we saw a man hitchhiking to the next town. Of course we stopped; even it is not at all legal in Iran… As we realized who he is we started laughing. It was the police officer from the morning. He invites us for lunch to the house of his brother to thank us. We had some time, so why not. At the end we had lunch, knew all family members and neighbors, learned how to cook Kashk-e-Bademjan, they showed us the city and the countryside, we got lots of presents, had dinner and left the family at 2am. Crazy Iran.
Rasul, his wife Saede and his family


The brother of a friend of a friend from Germany… When he heard that we are coming to Iran he offered to show us his city. We didn't know much about Mashhad. The 8th Imam Reza is buried here and that's the reason why this city is so big. Unfortunately it is forbidden for non muslim tourists to go close to the tomb. But thanks to Rasul and Saede and a tschador from his mother we were hidden between the believers and felt this impressive atmosphere in the shrine. Though it was well after midnight many people were in this area. Families were sitting in the inner courtyard, kids were playing or sleeping in the arms of their parents. In the hall around the grave people were praying and the believers tried to get a close contact with the Imam while touching the golden tomb. A unique experience after a unique evening. Rasul and his wife had already picked us up at 6pm. Of course Robert, a friend of us who is travelling by bike, joined us. In a small suburb we had a lot of the typical Iranian ice cream and good talks about the best places to live. Both of them want to do their PHD in Holland or Denmark. A good choice we think. After that we were introduced to his family. They are very modern. In combination with the hospitality of the Iranians they created a nice atmosphere. Within minutes we felt like at the home of good friends.
Matesa, Matin and their parents: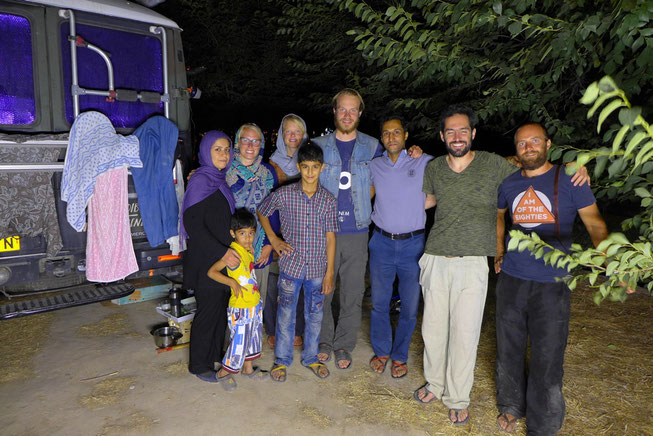 In Mashhad we spent the nights in the Ghadir park and met lot of nice people there. Besidas Robert, the biker from Aschaffenburg, Marleen and Roderick with the circumbendibus, we met Matin and Matesa with their parents. The family was coming here every evening during the Ramadan to start eating after sunset. Despite he heard bad stories about Germany (a friend of him had been hurt by a German motorcycle gang) he was very happy to talk with us. The little Matesa fell in love with Jörg, who played football with the boys every evening. Matin is fascinated by Johanna and showed us his black hands very proudly. During summer holydays he helps his father to repair motorbikes in his shop. Fatema is a great cook and every evening she brought some amazing food and we didn't know how to say thank you. At the end the boys joined us to the lake close to the city, bevor we really left Mashhad.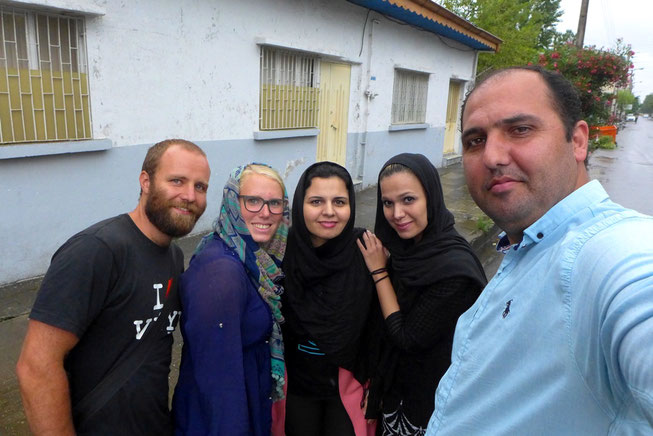 We didn't get our Turkmenistan visas and had to change plans.
However, that way we ended up in the hands of Jalal and his family. Actually he organized everything for us. Find out more on our next blog post. He has his own agency and is a very busy man. He wanted us to keep his hometown Bandar-e-Anzali in best memories. We knew he has little time so we tried to avoid the invitation to the biggest lagoon in central Asia. A unique boat trip between thousands of birds and man high reed to the protected lotus flowers. Thanks to his wife for getting us in. Later we walked on the brake water wall while sunset, ate super good sandwiches and enjoyed our amazing Kit Kat milkshake in a cozy teahouse. At noon he already invited us for lunch to a really good fish restaurant and served us the caviar which is a specialty for this region. If it wasn't enough we are allowed to spend the night at his office due to the fact that Coocie was already at the port. No, we will never forget this lovely city!