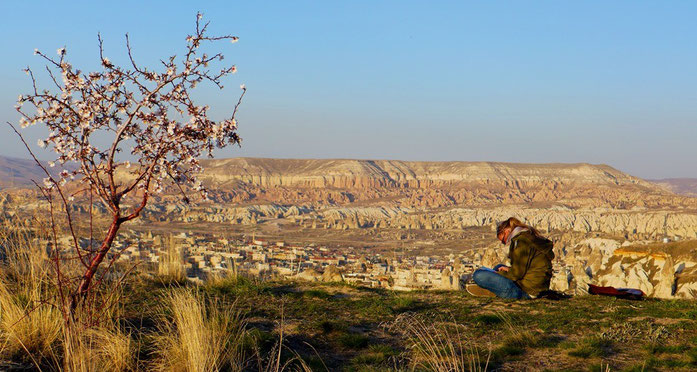 Apart from Istanbul, Bursa and Kayseri we stayed far away from the megacities, because this is where Turkey is best. The roads get worse and the people nice. While it is quite hard to find remote places on the west coast, it is more than easy in the east. It is rather impossible to find lonesome beaches on the coast even in winter. But this was the chance for me to get out our sandboards the second time. While rescuing a Ford Mondeo from the beach I got stuck as well. The most amazing and remote spots we found in central turkey though. The Yazili Canyon was one of our highlights during our visit. On the beach of the Salda Gölü  lime drops out and builds up this amazing white beach. Not to forget the Pamukkale terraces. They are from lime just as well and are one of the most famous places in Turkey to visit. Due to winter is was luckily not that crowded. The Tuz Gölü is more than 100km long and contains almost 33% salt. This is more than the dead sea. Drying during the summer makes it to a huge saline. More than 70% of the Turkish salt is from here.
Parts of our Cappadocia pictures you have probably seen our last blog post. No wonder that this is a travelers hotspot. Especially at this time of the year you meet quite interesting people there. We ran into the Zapp family from Argentina. The six of them are travelling in their Graham Paige since 16 years. We spent a whole week with them and their kids having a blast. Finally we found the desired snow on the Ercijes volcano. It was that volcano which covered the whole area in tuff around 235 b.c.  Today it is one of the largest skiing resorts in Turkey.
The list of amazing spots is just overwhelming. So finally we had a really hard time to pick the best captures of our two month stay in Turkey.