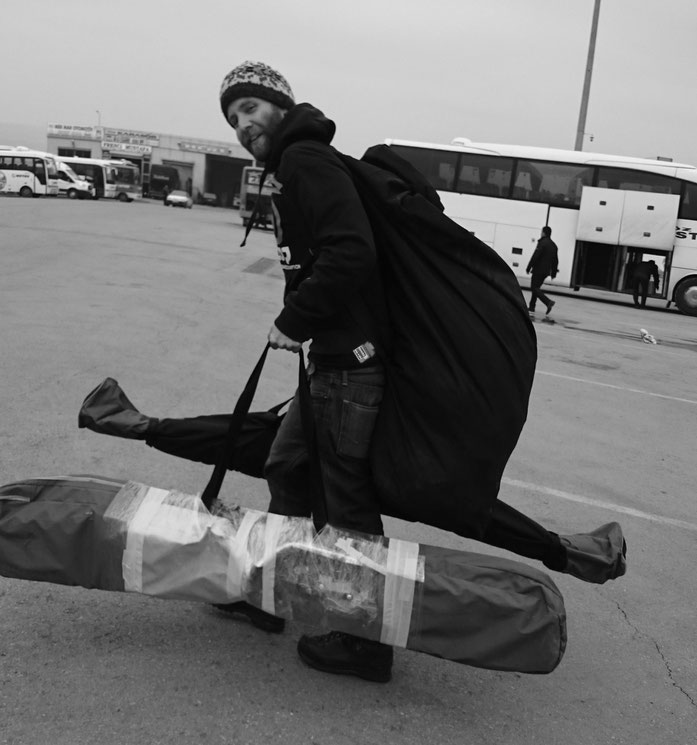 We just spent two weeks in different countries. Jörg went snowboarding with his guys and I spent the week with my parents.
Ann-Katrin: How was your week?
Jörg: Like always when I'm out with my guys. Awesome! The only difference was the snow. Since many years this year we actually had snow this week. So we rocked powder, kissed trees and realized, if a pink rabbit doesn't watch out for the barbed wire the wire will pull off his fur…
Ann-Katrin: Great! What was the highlight?
Jörg: Snow. It was really a highlight that we had snow this year!!! Really! *Smile from ear to ear*
Ann-Katrin: How many boards did you destroy this year?
Jörg: One Ski. A good number. One of 14 boards we took with us… and it was me who broke it. Who else!?!
Jörg: And how was your week?
Ann-Katrin: Great! I met so many people. Thanks to Mini-Cakes, "Danpfnudeln" (German speciality), great breakfast and "Flammkuchen" (French speciality) I gained weight again, but my sister and mother annoyed me till until I went o work out with them… Also I was bouldern and ice skating and of course partying…
Jörg: Were you home sick before we went off?
Ann-Katrin: No. Due to the internet I am always in contact to most of the guys. And Coocie is our home!
Ann-Katrin: Were you afraid about him?
Jörg: No, the most crazy Bernd ever watched out for him. It couldn't be better. We parked the car at the yard and got good food from the Öztürks.
Ann-Katrin: So you would do all of this again for your winter holiday? Travel with Turkish busses, take the annoying flights, the long drive and spend all the money?
Jörg: For sure!!! *FRIENDSHIP*
And you?
Ann-Katrin: As well! It's so good to know that your friends are still the same. Even if you haven't met for half a year it's like always after max. 2 minutes. That is the reason why we will do this one time in every year.