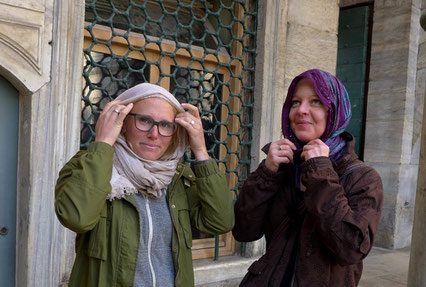 After spending about 2 weeks in Turkey already our Kalimera slowly becomes a merhabe. The seventh language we get to try on our trip so far. So actually we have already picked up a bunch of Turkish words …to forget them over night. While it was quite easy for us on the Balkan states, as they all speak a kind of Serbo-Croatian language, it is getting harder since Albania. We experience quite a hard time trying Turkish as it is quite different from all languages we know so far. Over all it is quite different so far. Our first surprise we got right away on our border crossing.  A crowd of finely dressed men and woman came up to us and gave us flowers. We had quite a hard time to find out that it was international customs day.  Anyway …as they were finely dressed our truck didn't get scanned.
Arriving in Istanbul our next visitor Kerstin was expecting us already. This city is moving. As we arrived on our parking lot it was mainly diggers and heavy equipment moving right next to us. At night it was alright though. Anyway, the parking lot was excellent as it was within 5 minute walking distance from the blue mosque and still located on the Bosporus waterfront.  
So waking up we were looking over to the Asian part of Istanbul which is a lot bigger than the European.  There are more than 14 million people in this city living in 39 districts. So there was a whole lot of work ahead of us. At the end we managed to see  5 of the 39 city parts. Thanks to winter season there were literally <no waiting lines at all the famous sites. What is it about this city? Well, in the city of mosques you can spend days and weeks seeing mosques. So after we got done with the famous ones on the European part we headed right over to Asia. Taking the subway this is quite easy. Besides two road bridges there is this one subway tunnel so far to get across. The rest of the railroad traffic ended in two railway stations on each side of the Bosporus so far. A new railway tunnel was finished in 2013 but the lines to the tunnel are not yet finished in 2016. As a very important strategic city the former Constantinople is looking back to quite an history. More than 2600 years after the first settlement about half of the Turkish economy is located in this area. 
This city has always been a major strategic and industrial area. When the capital of the Roman Empire was moved here it even became one the most important places for Christians. A lot later in 15 century while during the Ottoman Empire the Islam came to this city. In this time the city has undergone a major rebuilt led by the architect Sinan and the Sultan Sülyeman.  
For us it is just another big city. While all the tourist hang around on the European part the city life is taking place in the eastern parts. While there are a lot of shopping malls and you can still find some traditional markets here and there. After about 4 days we had enough and headed out to the green Bursa.