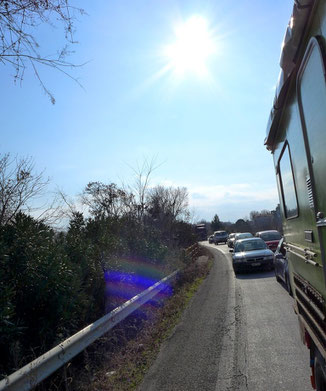 …what was annoying us daily at home we don't even know on this trip so far. Every morning on our just 25km trip to work we had traffic jams. Since we've left Germany we have not been in a traffic jam. Of course not regarding the one we caused on the Arlbergpass but traffic jams are of course only bad if you're not in the front. Back to Via Egnatia. Via Egnatia is a roman trade route connection the Adriatic coast line and the Bosporus today called A2. It was the most important trade route between Rome and Constantinople back then. Today it is supposed to regain its importance, partially at least, via the erection of an Autobahn. The trade today is blocked though as the Greek farmers are striking.

They not only suffer from the high VAT but from the European embargo concerning Russia. The vast majority of their products are for the Russian market. They sell the 5kg box of apricots for as little as 1€. The grocery pricing is like Germany though. It is clearly one of the most expensive countries for us on this trip. For this reason they put out their tractors on the road just like their French colleagues. We took our time to get some fresh coffee.
Despite all the anger regarding the European and the "Merkel-Politic" we could not find one Greek that was unfriendly to us. Even the farmers invited us right away to their fireplace. Other than them we could meet a couple Greeks that went from larger cities to the countryside as the situation is a little better there. About 40% average income the Greeks lost within the past few years. We cannot really say if the bars and restaurants stay unbusy because of the winter or the crisis. One thing we will remember though: we have not heard a single Greek whining. Just how we like it. We will remember the country for its beautiful beaches and stunning mountains.