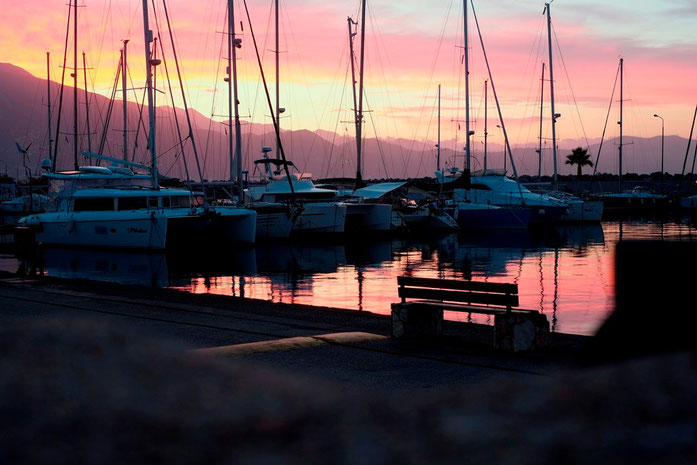 …because meanwhile you find new friends with their herds. A herd is per definition a wild straying gang. During the day they usually head out as singles to hunt, stray around and find the last undiscovered backyards of this world. At night they would come back to their gang to find shelter and attention. The size of a herd is yet to be determined while variety ranges an enormous spectrum. Among the most famous you would find airplanes, boats, and RV's but trucks and cyclists can just as well count in. Airplanes would be the most elite kind of herd as they tend to isolate themselves. RV's and boats can be found together quite often in marinas and harbors. Quite often they even have owners who take real good care of them. In this blog post we would like to show you two very special ones.

In Montenegro we met Kathy and Tim. They are proud owners of the MontyB. The MontyB is a 40ft sailing yacht which usually lives in lonesome bays on the montenegrin coast line. During the summer she is quite an attraction (www.montenegro4sail.com). In the winter though, she comes back to her herd to the marina of Kotor. During that timer her owners can focus on other stuff. Lucky for us, as we met them first way back in the mountains. Our second meeting already was on the MontyB. A quite impressing part of the herd, housing 2 bedrooms bathroom, kitchen and a salon. Problems and requirements are very similar to ours, so we had a blast again. Thanks to Kathy and Tim for all the good beer, wine, food, laundry and of course the good time!

Just one day after we left we got an own little herd. Way before we got to the Albanian border a VW LT28 appeard in the rear mirror and just didn't want to pass. We headed down the coast line together as we met his owner Martin on the first stop. We decided to head on together as he couldn't go too much faster anyway. Together with Martin (www.vonunterwegs.blogsport.de)  we forged countless plans to release them right away. Albania we had in mind. In the summertime ther are supposed to be herds of RV's like ours. In the wintertime it was just us and Martin. The roads were as they would have been made for our truck. From Shkoder we made our way to the Komani lake as it would be a fascinating ferry ride from there. The 50km took as the day. We never made it to the third gear to finally find out: The ferry is not going! So we headed back a day and eventually made it to Tirane. From there on we went to the Osum canyon which would be our last day together. All by ourselves we went all the way to Athens to pick up Nicole and Sascha.
Now we are a herd again enjoying the company right on the ascend to the Olympus mountain.  The mountain of the gods has just been covered in snow which prevents us from visiting them at home. Thanks to Martin for the help on my flat, the patience, the food and of course the good time.

We will now head on to the north hoping to find enough snow for our boards.