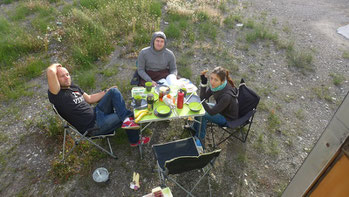 Writing a blog weekly or even daily just doesn't work too well. A blog entry including the homepage update does take a little more time when you are a rookie like me. Actually I wanted to write the last blog entry when we were heading back to Germany 2 weeks ago. Well, being the driver, it didn't work out like I had planned. Ann-Katrin was asked to speak at a conference in Freiberg Germany. For that reason we actually went back to Germany for a week. The way there was actually quite interesting as well. I never thought that you would have to show your passport at the borderline to Germany. A result of the current situation in Germany and the EU. This of cause caused very long waiting times. Surprisingly at the Slovenian – Austrian borderline at the Karawankentunnel was very little traffic.
We of course follow the news very closely. We usually buy a local SIM card with which we can always check on the latest news. Actually it is not that easy to get a correct picture not being on the set. Since weeks everything in the news is about refugees, burning refugee camps, crowed railway stations and angry citizens. Easy you become a picture of a chaotic Germany. Being there it isn't all that bad. Mannheim and it's people look just the same as always and also in Freiberg you can't see anything as well. Under the line it is 1 or 2% more population. The conclusion would be: Go there before you judge!
The short trip to Freiberg was actually quite successful. We couldn't really manage more than a walk through city center.  A short visit at our parents houses and off we went back home. The truck we had parked in Ljubljana and did the trip with a rental car. After a week on the road it actually felt quite good and normal to move back into the truck.   

We didn't have much time to get everything in the truck before our next guests came. A few hours after arriving at the vehicle Maria and Chris arrive in Ljubljana. Both of them went to school with me and live in Munich now. For us the fifth time to visit this wonderful city. To get going we only stayed two days though. We headed east towards Sostanj, Velenje and Maribor. Unfortunately we arrived in Velenje on a Monday. A day when all museums and mines are closed. The Slovenian law requires a mx of 5 working days a week which are usually Sunday and Monday for touristic destinations. So went on to Maribor on a beautiful autumn day. The coming up days weren't going to be so good though. Luckily we have a tarp for the truck, so we can sit outside even when raining. It works inside as well. Whenever cooking or eating you just have to seat them in the beginning. When everybody has got their location you can just work as usual. Really cozy with 4 people in the car. To limit the condensation you open windows and rooftop a little but with all the people inside it still stays quite warm. With the heat of the guest you can probably go down to 0°C outside temperature without heating.
During the day we visited a few wine cellars on the Slovenian wine road before we went on to Zagreb. I hope our guide Martin doesn't try all his wines with all the visitors he gets. Zagreb we found a little odd. Most of the places marked on the touristic route through the city were only to be seen from outside. So it was pretty much a walk through city center. At the end we stayed for 2 days because the week of Maria and Chris was already over and we didn't feel like any more cities. In addition it was raining, so we decided to move on to the countryside and write the last blog entries.