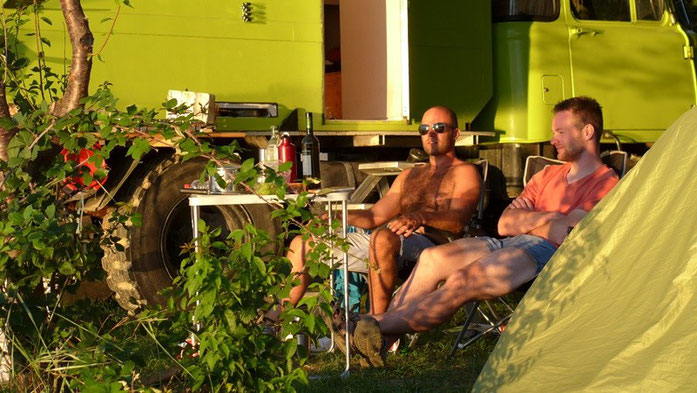 We left Venice to follow the italien Adria coast line to the borderline of Slovenia right after Trieste. We wanted to get to a really nice place on the 47km long coast line of this little country. At this place we have already been on our last trip to Slovenia. An old friend from home was supposed to meet us there.
I believe Markus and I have met more often out there in the world than back home. He was on his way to Parma with a bycicle. In just about 3 weeks he finished this trip even though taking some detours via Slovenia and Croatia.

After Markus has left us we had to leave towards Croatia as we had to meet the next visitors close to Labin. On the way we stopped in the tractor story – museum. Not really worth it! On a quite nice spot including seaview we met Julia and Andreas with their dogs Barni and Debbi. Sadly we only had two days to spend with them as it was a blast. I was literally throwing sticks and balls for just about two days. It was not the dog that gave up first! Two BBQ`s and a trip to the vojak mopuntain later we already had to leave them.  
We are beginning to realize that or our freinds really mean it. Thanks for the wonderful throughout your visits. I'm starting to think about the booking calender again!