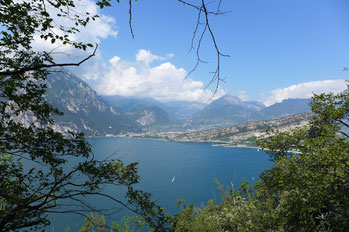 One week at largo di garda…
 "Largo di garda, a wonderful lake in the center of the dolomite alps", this is how the travel guides describe this region. I expected a silent place to relax and then we arrived in Riva!
One hotel next to the other and inbetween two campgrounds and thousands of souvenir shops. The next shock is more than 30€/day for not really more than 10m² on the campground. Internet is included …if it works every once and a while but please bring your own toilet paper… But we will spend the week with my godchild and her family and can see their room from our place.

After a while we recognize why all the people spend their holidays here. It is an Eldorado for active and wane be active people. Hiking, climbing, cycling, surfing, swimming and paddeling… everything is possible. My uncle and Jörg actually are quite active. They climb the mountains, we reach by car, with their mountainbikes. But on top of the hills we are sportive all toghether… We do a simple climbing track and fight through the forest to a real nice panorama track. Stand-up-paddeling seemed to be a little bit boring at the beginning, but after we could balance it we tried to ditch each other.
For sure we also tried our new canoe!!! Without equipment but lot of respect of falling to the water we are not that confident at the beginning. After everyone tried, my cousin and my uncle were te only ones that fell over. So we decided to carry my cousin as a see bag which makes paddeling much better. So our first trip will come soon for sure
To make it it alittle more relaxed we  had a lot of ice cream and good italian food in between.
We really enjoyed the week at largo di garda at the end!!! The only thing we would change the next time is the camp site. We enjoyed the Sunday evening in the vineyards.