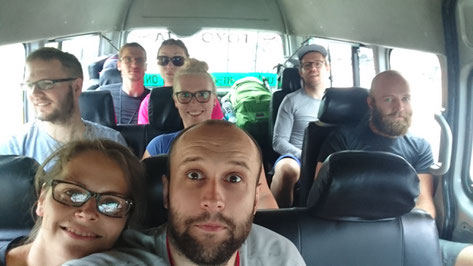 Everyone was very excited for September 4 to arrive! Why? Because Jürgen and Wendy were expecting six friends to visit them from Germany. The group to travel with for the next three weeks was made up of (besides Jürgen and Wendy of course): Sascha (aka Willi), Nicole (aka Nicoletta), Caroline (aka Mr. Mo), Falko (aka Falilo), Torben (aka Turbo) and Alex (aka Karli). An excellent setup which would guarantee plenty of fun and bullshitting over the weeks to come. The goal was simple: to hike the Annapurna Circuit. The Annapurna Circuit is a hiking trail that leads around the Annapurna range. It is supposedly one of the most beautiful hiking trails worldwide. About 220 kilometers in length, it passes two of the sixteen highest mountains on the planet (the Annapurna I whose peak sits at 8091 meters and the Annapurna II which is 7937 meters high). We were planning to hike for 18 days from Besisahar to NayaPul. We decided to hike in September even though it was still the end of the monsoon season. But the advantage was that the trek was much less crowded because Oktober/November are high-season.
Jürgen and Wendy arrived in Kathmandu a few days earlier and could therefore find a decent guest house and run a few errands for the group. On September 4 they picked up their six visitors from the airport. Everyone was very excited, there was a lot to catch up on and it was therefore decided to have an extensive breakfast first. Afterwards they all explored the narrow and busy streets of Kathmandu. Quite a few things needed to be sorted in order to be prepared for the upcoming 18 days, e.g. buy travel permits which would allow us to register at different check points along the trek. Kathmandu is often the starting point for trekking tours in Nepal – whether you are hiking to Annapurna, Manaslu or even Everest. Therefore, the entire district of Thamel (which is also where we stayed) is made up of outdoor shops, souvenir stands, hotels, restaurants, booking offices and so on. This was the perfect place for us to unpack all 8 backpacks to see what we didn't need to take on the trek and what we still needed to buy. Our backpacks needed to be optimized!! The real journey began the next morning…


Day 1: Kathmandu (1300 m) – Besisahar (820 m)
It took our mini bus about 7 hours to drive from Kathmandu to Besisahar – the starting point of the Annapurna Circuit. On the way to Besisahar we ate the most famous dish of Nepal for the first time – Dal Bhat, which is a combination of rice, soup and different vegetables. Dal Bhat would be our meal of choice for the weeks to come.


Day 2-4: Besisahar (820 m) – Tal (1700 m)
Trekking begins! For the first time on this trip we filled up our water bottles, mounted our backpacks and made sure that our hip straps sat tight. A daily routine for the days to come. Temperatures were high and the air much more humid than we expected. We hiked through a sheer endless amount of rice fields and tropical forests into a town called Ngadi. Shortly before our arrival we were reminded that it was still monsoon season and all of us got drenched. Perhaps one of the reasons why almost all of us had a cold a few days later. We slept in the guest house of Mama Sita who offered us homemade wine which actually tasted more like hard liquor. Fortunately, none of us turned blind but the taste wasn't very great either. The weather remained tropical the next day and we continued our hike to the town of Jagat. Sun protection and sweaty shirts were something that we got used to. Unfortunately, we also had to get used to the smell of sweat. On day 4 we hiked to the beautiful town of Tal which sits in an amazing river gorge. On that day we also made our first encounter with leeches. All of our socks we now covered in blood stains. We stayed in the "Father and Son" guest house which was full of international trekkers – a reminder of how famous the Annapurna Circuit is globally.


Day 5-9: Tal (1700 m) – Manang (3540 m)
We continue our hike to the town of Timang. Because Mr. Mo's cold got worse, she and Falilo decide to take a Jeep instead. Luckily, this is still possible on this stretch of the circuit. So they switch into hitchhiker mode and wait for the next Jeep! The rest of us walks. In the early afternoon, an overloaded pickup truck passes us. On top of an endless amount of crates and boxes sit Mr. Mo and Falilo. They don't look overly excited and try their best to hold on to anything that prevents them from falling off. On day 6 we hike to the town of Dhirkur Pokhari. Mr. Mo is much better but unfortunately, she seems to have passed on her cold to Wendy. Towards the end of the day we walk along a narrow road that was carved into the rocks. All of a sudden, a guy on a motorcycle comes around the corner and screams "hurry, hurry…yaks in five minutes". Which for us means running as fast as we can until we find the next open space where we can hide from the yaks. Just in time we find a few trees that we can hide behind. Because we learned that yaks can be quite mean. During dinner at the next guest house things got a little hectic again. Wendy, who is sick already, has a hard time breathing so she and Jürgen decide to charter motorcycles which take them to Chame – a town about 500 m lower in altitude. The two of them take a few days off and take jeeps for part of the way. The rest of the group continues to hike. On the next day, the rest of the group reaches the town of Humde – a pretty village which even has its own airport. We were told that it was last used over two years ago and is not home to mostly cows. Humde has an altitude of 3330 meters so all of us are now very aware of possible symptoms of mountain sickness. We eat garlic soup every night which is supposed to help. It seems to do its job. On the next day we have the unique opportunity to be part of a Nepalese wedding ceremony because the sister of the owner of our guest house is getting married. After that we continue our hike along an endless amount of prayer wheels and prayer flags to the town of Manang. On day 9 we all take a break to acclimatize. Luckily, Manang gives us the feeling to be back in civilization because our guest house does not only offer hot showers, there is even a cinema which, as it turns out, consists only of a TV set and a few DVDs. Manang is also home to a number of pretty decent bakeries and laundry services which we were happy to use. The laundry that we got back the next day is as dirty as before but at least it smelled a little better. Jürgen and Wendy also reach Manang that day. The group is finally reunited and everybody is super happy about that.
 
Day 10-13: Manang (3540 m) – Thorang-La Pass (5416 m) – Muktinath (3800 m)
It's Wendy's birthday (!!!!) and therefore the day starts with chocolate cake at one of Manang's bakeries. Luckily, the sky clears in the morning and offers us a view of the Annapurna range for the first time. The view is amazing and reminds us of the altitude that we are at. In the opposite direction we can see our first summit over 8000 meters – Manaslu. We wanted to hike all the way to Yak Kharka that day but failed to reach our goal because the cold has now been passed on to Nicoletta. The good thing about it: we get to spend the night in probably the nicest guest house throughout our entire trip (in the village of Ghusang). Of course we have Dal Bhat for dinner before we go to our rooms and fall asleep looking out of the window and seeing the Annapurna range. On the morning of day 11 Nicoletta is much better and we decide to hike further towards our goal: Thorang-La Pass. We spend the night in Ledar at an altitude of 4200 meters. From now on we have only one goal: acclimatize sufficiently in order to make it over the pass. The next day, we continue to Thorang Phedi (4450 meters). We check into our rooms and climb an additional 400 meters to High Camp where we want to acclimatize for a few hours. After some apple pie we descent back to Thorang Phedi where we spend the night. Day 13 is undoubtedly the most important of our entire trip because we want to make it over Thorong-La Pass at an altitude of 5416 meters. In order to do that, we need to ascent about 1000 meters followed by a 1600 meter descent. Walking up towards the pass is incredibly hard and we can feel that the air is getting thinner with every meter in altitude. At an altitude of 5000 meters Wendy finds it increasingly hard to breathe and she and Jürgen therefore decide to go back to High Camp in order to try it again the next day. The rest of the group carries on but most of us have really bad headaches and feel a little dizzy. Our stay at the peak of the pass is therefore rather short. Luckily, Jürgen and Wendy are able to go over the pass the next day while the rest of the group spends a day in Muktinath visiting the Buddhist and Hindu temples of this pilgrimage town. Not to forget: we all take our first hot shower in days!!!


Day 14-18: Muktinath (3800 m) – Birethanti (1025 m)
We all made it over the pass and have left the hardest part of the Annapurna Circuit behind us. Everyone is so proud! Because Wendy still feels a little weak, she and Jürgen decide to take a jeep to Jomson while the rest of us walks. We hike through a beautiful gorge and arrive in Jomson in the evening. Many hikers finish their trek in Jomson because the city has an airport which offers flights to Pokhara – the second biggest city in Nepal. But we decide to carry on. But because we are a little behind schedule, we decide to take a jeep from Jomson to Tatopani which isn't any less exciting because landslides are very common on this stretch of the road. Our driver keeps looking up the hill while he drives through critical passages quite fast. He seems a little nervous during the entire drive and we can see the relief in his eyes when we arrive in Tatopani. In Tatopani, however, we are rewarded with hot springs. For the very last stretch of the Annapurna Circuit, Jürgen, Turbo, Willi and Karli decide to walk over Poon Hill while the rest of the group takes a bus to Birethanti. The last two days where we hike over Poon Hill turn out to be pretty exciting. We help rescue a tractor that got stuck in the mud and as a reward are allowed to ride on the trailer for a few miles. The next morning, we get up before sunrise to hike up to Poon Hill in order to get a good view of the entire Annapurna range. Unfortunately, it's cloudy and our biggest memory of Poon Hill is the coffee we had up there. After our very last descent we meet up with the rest of the group in Birethanti where we spend the evening reflecting on the memories of the last 18 days.

We take a mini bus back to Kathmandu the next morning and celebrate Wendy's birthday again over dinner (thanks for the invitation!!!!). We use the very last day of our trip to visit the most important sights of Kathmandu. At Durbar Square we get an impression of the damages that the earthquake from 2015 has caused. Many of the ancient buildings have collapsed and it will probably take many years until they have been rebuild. The Swayambunath temple offers an amazing view over Kathmandu. While trying to take a selfie with a monkey, Turbo gets hit by the little cyreature – for him probably the scariest part of the entire trip. Before having to say goodbye, we have Dal Bhat one last time that night. The 18 days we spend on the Annapurna Circuit were an incredible experience, which also challenged us from time to time. But because we took everything with humor, we were able to make it through nonetheless. See you all next time!!